Whimsical Wreaths Watercolor Card Class
Watch the Video Introduction!
What You Will Learn in this Class
All Levels Welcome!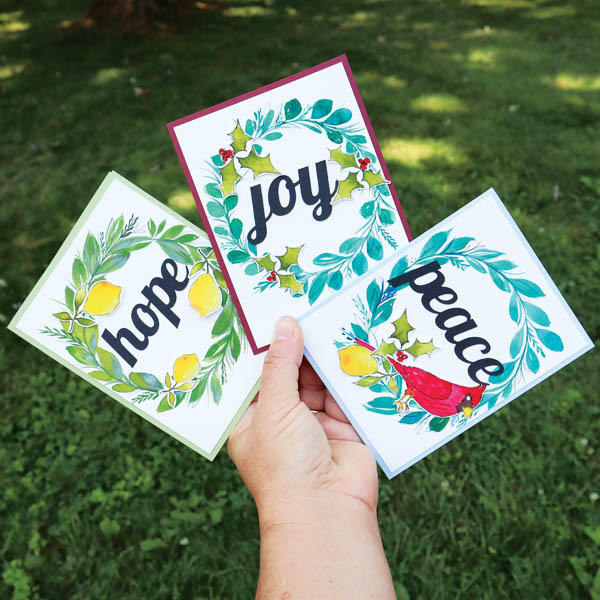 In this class, you will learn how to paint whimsical wreaths in watercolor. We'll paint several holiday-themed die-cut embellishments to create three beautiful cards And as a bonus, I'll walk you through adapting the painting techniques to create a 5x7 wreath painting for framing, gift-giving, and more. 
I will be sharing how to use Viviva watercolor sheets, a dye-based watercolor along with discussing the differences between dye-based, watercolor, pans, and tubes. We'll take a comprehensive look at all forms of watercolor. Watch the introduction video for all the details. 
We'll splash color around and take a deeper dive into JOYFilled watercolor techniques using hot press watercolor paper:
Whimsical Leafery techniques to build a beautiful wreath.
Watercolor Glazing
Hot Press Paper and What Makes it So Magical. Tee hee!
Differences between Watercolor Ink, Pans, Tubes, and Viviva Colorsheets
Card Design Principles using Die Cut Embellishments
Splattering Paint for Texture
These techniques will help us create beautiful textures and build depth of color in your wreath cards.
I'll demystify and walk you through each technique step-by-step before we paint the final project together. 
Video content delivered in short, technique-based lessons
Each video lesson breaks down the watercolor painting techniques into smaller chunks giving you the ability to follow along using the practice handout. Then, we'll put it all together and create beautiful cards. 
What You'll Make:
Together, we will walk through all of the techniques, paint whimsical wreaths and embellishments for the cards, AND as a bonus, we'll paint a larger wreath painting together. 
Supplies You'll Need for the Class:
This class is technique based and you will be able to adapt the techniques to the supplies you have on hand. You DON'T need specific brands for this class. 
Just grab your favorite set of watercolors to get started. It can be pan, tubes, liquid, colorsheets, or whatever you have on hand. There is a comprehensive lesson in this class where I go through all of the kinds of watercolor options and paper with recommendations. I'm using hot press paper in this class, but you can use what you have on hand. 
A paintbrush, jar of water, and a towel. You'll need adhesive to assemble the card.
For Cardstock You'll Need:
The Class Downloads Supplied: 
Full-Color Image Examples
Technique Practice Sheet
Color Mixing Palette
Card Embellishments
Additional embellishments die cuts, and .svg files for sentiments to paint the large wreath Bonus Painting
Seven Class Handouts are included for Download along with .svg cut files for the card embellishments and sentiments. You can print them out on your favorite watercolor paper to complete the techniques and embellishments.
Three BONUS Prints are available in the handout download. Choose between HOPE, JOY and/or PEACE to paint the 5x7 project. Just a little extra project in this class I know you'll enJOY!
Craft Your JOY Whimsical Wreaths Card Kit Option (Sold Out)
The kit is NOT REQUIRED for the CLASS. It's an additional add-on offering. Everything you need for the course is made available to you in the downloadable handouts. You can absolutely use your own supplies and experience JOY in this class. I will be using dye-based watercolors (Viviva Watercolor Sheets) in the class but extensive video tutorials will be provided for many watercolor options. 
Whimsical Wreaths Add-On Embellishments (NOW AVAILABLE)
Embellishment kits are limited and are a nice add-on to the course if you are not interested in fussy cutting the images. U.S. Shipping only. 
The Embellishment Set Includes:
3 - Joy, Hope, and Peace Sentiment Die Cuts in Black as shown
9 - Original Illustration Diecuts on Hot Press Watercolor Paper (Lemons, Holly, and Cardinal)
BUY THE EMBELLISHMENT SET HERE
BONUS Download
FREE 5x7 Art print download of the original, handpainted wreath I create in this class. Full-color embellishments are also part of the bonus download as you see here. The download is part of the final class lesson.
Perfect for Beginners, Seasoned Painters, Makers, Enthusiasts, and MORE!
This class is perfect for beginners, seasoned watercolorists, and/or enthusiasts. It is my intention for you to have FUN and enjoy painting. 
May you find pause from the hustle, pure joy, and inspiration here!
The Course: 9 Video Tutorials
Comprehensive Video Tutorials. Project Handouts are Included so that You Can Paint Alongside the Tutorials and Master the Techniques
Video content delivered in short, technique-based lessons
Self-Paced
Downloadable Videos
Lifetime Access
Course Curriculum
Watch the FREE PREVIEW Introduction!
Whimsical Wreaths: Supplies, Embellishment Kit Option + Class Handouts

Deep Dive Into the World of Watercolor (Paper and Paints)

Practicing the Watercolor Painting Techniques

Painting the Whimsical Card Embellishments

Painting the Whimsical Wreath Card Layer
About this course
$45.00

10 lessons

4 hours of video content
Class Price: $45
Affordable. Self-Paced Class.