What You Will Learn in this Class
Whimsical Watercolor Mini Class
Let's paint a hot air balloon and create an oversized card project together!
In the whimsical watercolor mini-class series, I'm sharing bite-sized art lessons in watercolor and other mediums like colored pencils, markers, gouache, and more. 
The intention of this course series is to provide mini-class lessons packed with techniques that are easy to understand, replicate, and master. 
AND, we'll create a fun oversized card project together.  At the end of the series, you'll have 12 or more card projects that you handpainted. 
In This Mini Class, You Will Learn: 
How to paint loose roses in watercolor and create dreamy, washy-washy effects

What is gouache and how to create the "look" if you don't own any? Hint: it's opaque watercolor. 

How to add simple details with pen and/or ink

Splatter effects

Wet into Wet and Wet into Dry Watercolor Techniques

To get comfortable with brushstrokes and brush dancing

To TRUST Yourself! You can do this!
 **********
What Do You Need to Take this Class?
Grab the following from your stash:
A simple set of watercolors. Whatever you have will work!

In this class, we'll be using the following colors: 

Pink, Orange, Blue, Brown, and White

White Gouache if you have it. If not, grab some white acrylic paint or white watercolor

Black pen or sketch marker

Watercolor paper sized at 5x7. Whatever you have on hand. I prefer 100% cotton. 

A piece of cardstock or watercolor paper (heavy paper so you can make the A-7 sized card base. Flat size 10 x 6.9, scored at 5 inches and the final folded size is 5 x 6.9 

Brushes in your favorite sizes: I like Rounds in 6,8 and 10 and a 3 for small details.
GENERAL LIST OF MY FAVORITE WATERCOLOR SUPPLIES. You do NOT need these items. 
It's just a general list I share in all my classes.
DOWNLOAD A GENERAL LIST OF SUPPLIES HERE
 **********
What You'll Make: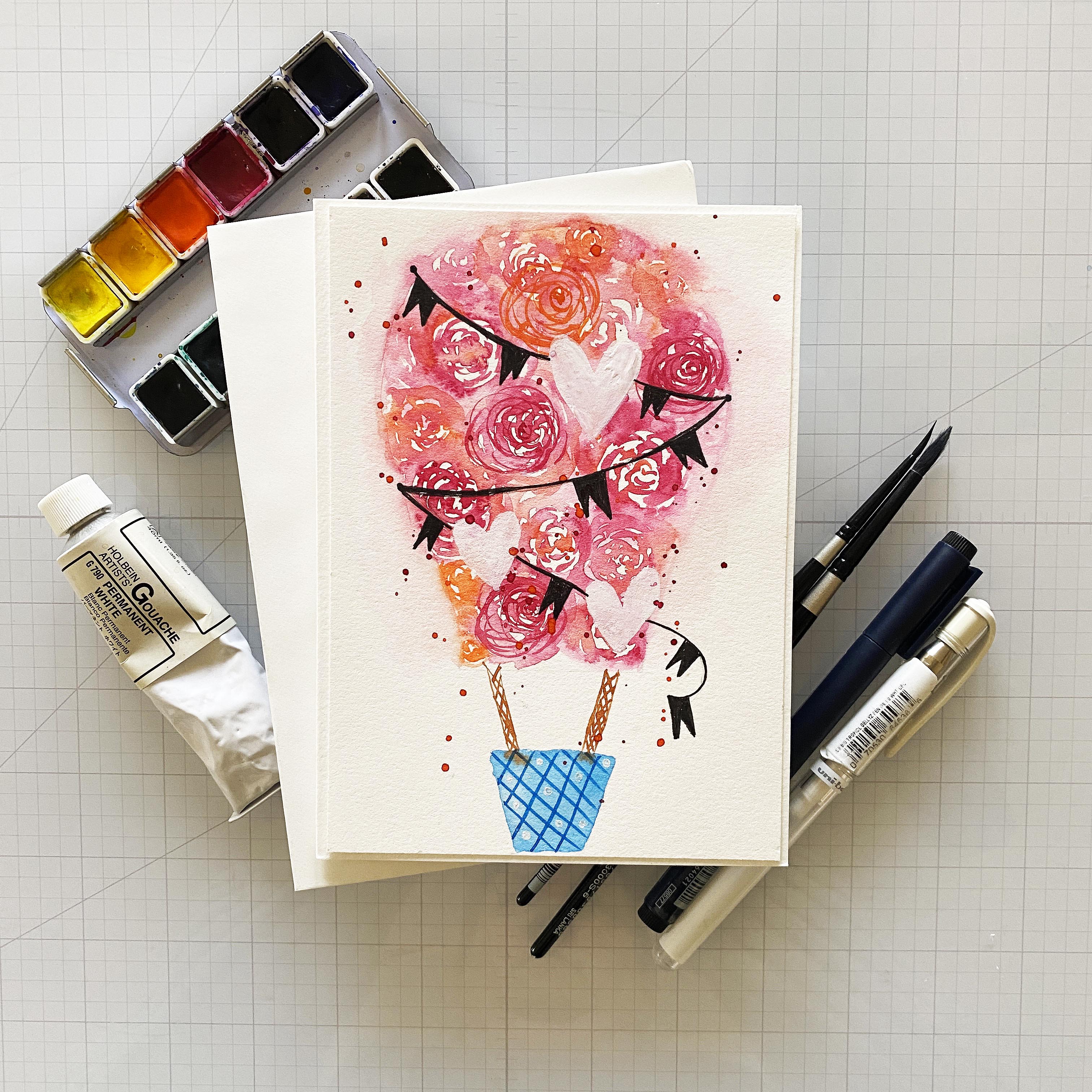 Class Handouts Provided Including the Hot Air Balloon Outline
This class will be delivered LIVE on Wednesday, February 1st, 2023, 10:30 am eastern.  
After you purchase the course, the link to the LIVE class is provided to you in the class in your student dashboard AND in your purchase email.  
Can't make the LIVE, NO WORRIES!
After the LIVE, the course will be housed right here in the classroom and forever be within your student dashboard. You can watch the course over and over at your convenience. You DO NOT have to be present on the LIVE to enJOY this course. I'm offering it both ways: LIVE and REPLAY. 
 **********
This class is perfect for beginners, seasoned watercolorists, and/or enthusiasts. It is my intention for you to have FUN and enjoy painting. 
May you find pause from the hustle, pure joy, and inspiration here!
Let's Paint a Hot Air Balloon
Whimsical Watercolor Mini Class
Video content delivered in descriptive, technique-based lessons. 
Approximately 2+ Hours of Instruction
LIVE or Self-Paced
Lifetime Access
Free Craft Your Joy Community Included
Whimsical Watercolor: Let's Paint a Hot Air Balloon
About this course
$22.00

1 lesson

0 hours of video content
Class Price: $22
Affordable. Self-Paced Class.